Call of Duty: Black Ops II


Publisher: Activision
Developer: Treyarch
Genre: First Person Shooter
Release Dates: November 12, 2012 (EU & NA)
Price: 24.99£ (Amazon)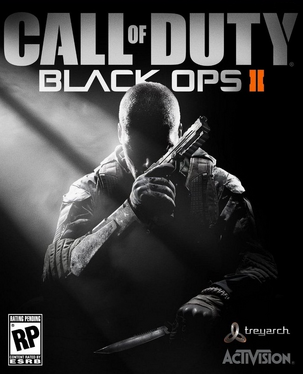 Campaign
Handling a yearly franchise such as Call of Duty is no easy task, as you always have to come up with fresh ideas that will make everyone believe that you didn't make just another Call of Duty game, or an improvement over the last year's game, but a new and fresh experience overall that brings everything fans love about the franchise and mixes that up with a great story and a fresh take on a first person shooter's campaign. The story the game wants to tell is profound, detailed and amazingly well executed, shifting between the past stories that follow the protagonists Alex Mason and Sgt. Frank Woods from the first Black Ops game and the present story that takes place in 2025, following David "Section" Mason, Alex's son and his squad.
Black Ops II is not another game that puts a random villain in it taking you one step closer to killing him from a mission to another, but instead it makes you understand the reasons of the game's villain, Raul Menendez as he tries to take revenge on the United States and its people. Every mission takes you closer to understanding what Menendez' intentions truly are and even when you think you have it all figured out, in the next sequence a plot twist will wipe that impression and you're back at the start with no clue on how it's all going to end. The past missions are a delight as they will instantly bring back some nostalgia to the fans of the first Black Ops, while still keeping those new to the franchise up to date by telling some of the previous stories as you make your way to the next objective.
Each character has its own spotlight and you will have plenty of opportunities to find out more about each individual as you play through the missions, but the real magic begins when all those stories come together at once into what is without doubt one of the most apocalyptic sceneries seen in a Call of Duty game before, but even with all that the story that Black Ops II wants to tell isn't about destruction or taking control, but instead about losing, revenge and the meaning of a person's life. Whoever said that first person shooters no longer care about the story was wrong, and Black Ops II proves that more than anything, managing to deliver a touching story that breaks any barriers of time or protagonists, leaving you with the emotion you want to feel as there are multiple endings and different choices that will affect the outcome later, all that while still keeping an addictive and diverse first person shooter feel.
Multiplayer
Since Call of Duty: Modern Warfare, Multiplayer has kept growing in size from one game to the next one, introducing more features and content than ever before and becoming an essential component of any Call of Duty game. Black Ops II is no different, pushing the boundaries of competitive multiplayer even forward, with more maps, modes and weapons than ever before, all wrapped up with a ranking system that makes it interesting and exciting to unlock more content as you level up, and make multiplayer feel refreshing even after you've familiarized yourself with all the maps and modes. It all comes together in a well crafted rank mechanic, which allows your character to level up and unlock new weapons, slots and gear, as well as the weapons themselves, which will unlock new attachments such as silencers, scopes or additional ammo slots.
There are tons of gadgets, weapons and scorestreaks to unlock, and even if by the end of level 55 you should be able to unlock everything, the Prestige mode allows you to reset your entire progress in exchange for a new special rank and additional slots or unlock tokens, so you can try out new things the next time, while still getting rewarded for your progress made so far. League Play is where Black Ops II gets competitive, as it was meant to be the perfect place to sustain eSports activities without limiting access to professionals only, as anyone can take part in placement games, after which they will be placed in a division with players with a similar skill level to theirs and play in ladder matches so each and everyone has a chance to occupy a place on the ladder.
Zombies
The Zombies mode from Black Ops I and Call of Duty: World at War before it makes a return as a standalone experience for the first time, bringing with it more features, maps and of course zombies. Just like in the original Black Ops the story follows a different group of four survivors: Abigail "Misty" Briarton, Marlton Johnson, Samuel Stuhlinger, and Russman, surviving the events following the destruction of Earth in Richtofen's Grand Scheme in the American South-West, players being given the ability to choose between them when playing. There are three different maps in which the players can choose to survive against multiple waves of zombies, Bus Depot, Town & Farm, with the fourth map named TranZit that will spawn an Undead Bus which will travel all of the previously mentioned maps, allowing you to take items from each of the locations and move on to the next one shortly after, as well as throwing in a couple of other activities, quests, items that you can take from each location and Easter Eggs that can be discovered along the way.
9.5
Campaign
It's been more than half a decade since we started getting yearly military shooters, not only in the Call of Duty franchise which has been around for an entire decade at this point, constantly growing in size and scope, but in other franchises and titles as well, and for most cases the campaign was the main interest in that specific game, as it offered a story worth following combined with jaw dropping moments that made you feel like a part of the action and ultimately a survivor of worst case scenarios. Since that trend started we've seen all sorts of breathtaking moments including tank missions, helicopter missions and more explosions than an 80's action movie, but those kind of things that offered a groundbreaking experience five years ago, cannot have the same impact on the player today, as we have got used to those moments being integrated in the campaign for the past decade, and getting to that one mission where you take control of a tank or shoot from a moving helicopter is no longer a surprise.
Black Ops II tries to switch it up once again and introduce unique and memorable moments in the campaign such as the horse riding missions where you will be able to wander around the desert on a horse while shooting and dodging every single enemy headed your way. There is more than one such moment that will stay with you after you move on from Black Ops II's campaign, and while at its core the game is still that first person shooter experience that you're used to, there are enough new tools and gadgets in the future scenario of the game to provide a different kind of experience and prevent the campaign from becoming monotone and boring, as there will always be something new to play with.
Another addition to the campaign comes in the form of Strike Force missions, a group of additional missions which will appear based on different decisions that you take in the campaign itself; those side missions allow you to control the game from a top down point of view, while issuing commands to different squads and drones, in order to defend a location against multiple waves of enemies. While commanding your units from an RTS perspective is fun and refreshing, the input of commands can be buggy at times, as some of the units will move in different patterns without you actually issuing a command for that movement. On the bright side, this mode also gives you the option to jump into the first person mode of a selected unit, taking direct control of its movements and weapons, but as a single unit cannot be in multiple places at once, success still depends on the management of the units.
Multiplayer
The main attraction to Black Ops II's multiplayer is that there is something for everyone, whether you like straight forward deathmatch maps or enormous open battleground there is a wide range of maps to please each and every player. The same thing applies to weapons, as the list of weapons is no short of your favourite assault rifles, pistols, shotguns, machine guns or sniper rifles, complimented by tactical gear such as explosive grenades, flashbangs, smoke grenades, concussion grenades, shock charges and many more. For most military shooters the tactical equipment comes second, as you can easily score kills and get by without ever using those, but Black Ops II makes those feel important especially in those small maps where throwing a timed concussion grenade can get you at least three easy kills in a situation where without it you'd be dead before entering the room.
Black Ops II is no short of game modes, with classics such as Team Death Match, Capture the Flag, Domination, Demolition, Headquarters or Search and Destroy still here, as well as returning modes from the first Black Ops and Modern Warfare 3 such as Kill Confirmed, Gun Game, One in the Chamber, Sticks and Stones or Sharpshooter and the brand new mode, Hardpoint which is a modified version of Headquarters that allows players to respawn even when the enemy team is holding the hardpoint, making it easier to take over, even if the enemy team has the hardpoint secured. Based on the score and the scorestreaks you unlock and select before the match, you'll be able to call in things such as an Airstrike, a UAV, a K9 unit or different types of drones and helicopters to aid you and your team in battle and using those at the right time is key as the scorestreak will reset each time you die.
Zombies
The core mechanic of the Zombies mode remains the same, surviving against as many waves of zombies as you can, but out of everything the game has to offer, TranZit is by far the most unique and fun experience, as it packs everything the game has to offer in one single map, allowing you to choose how and where you want to play, and giving you an escape route if you feel like your current location has been overwhelmed. Just like any other location, more zombies will show up as you move on to the next wave, and having an undead bus does not keep you safe at all, as zombies will still make their way through the fog, but luckily you can choose to only travel with the bus when necessary and on top of that there are bunch of cool upgrades you can grab along the way from different locations to upgrade your bus and make it more zombie resistant.
In addition to the classic Survival Mode, Black Ops II Zombies introduces Grief mode, where two teams of four players each will fight for survival as zombies will try to kill everyone; however players on the opposite team cannot kill or revive each other and the last team standing is declared the winner.
9
Black Ops II uses an upgraded version of the same engine used to create the original Black Ops, and while it does a great job keeping up with the times on an outdated engine, don't expect anything spectacular. The character models look great, the animations are nailed down and the enemies look different enough to make you feel like you are fighting actual characters and not just clones. Not only does the singleplayer experience take advance of some high quality design, but the multiplayer maps look just as great, with details added in each corner to make them feel authentic and transmit just the feeling of war that was intended. The effects are amazing and thanks to the Theater Mode they can be saved and admired forever, as the multiplayer madness will always create some amazing explosions and shots that are worth watching a second time.
8.5
Call of Duty always got one thing right and made it feel authentic even when it wasn't, and Black Ops II is no different when it comes to gun shots and explosion sounds, as each weapon has its own unique impact on how the game feels, and combined with the background noises, no matter which mode you play Black Ops 2 always has something worth hearing. The voice acting is amazing, with a special award going to Kamar de los Reyes for his performance as the campaign's villain, Raul Menendez, but everyone else starting with Avatar's Jake Sully, Sam Worthington as Alex Mason in the game, and ending with James C. Burns as Frank Woods do a great job at bringing their respective characters to life. The soundtrack is just as good, with heart-warming tracks playing throughout memorable moments in the campaign, but the jumpy tracks from the multiplayer lobbies are no different.
10
Black Ops II is a great example of getting overwhelmed with content for your buck, as this game offers an eight hour high quality campaign, a multiplayer component that is easily worth 50 hours of content, as it will constantly reward you with new items and gear as well as offering all the support needed for eSports via League Play and Theatre Mode, which is more than enough to justify hundreds of hours of multiplayer playtime if you're digging the concept. On top of that, Zombie Mode makes a return as a standalone experience with new maps, weapons, secrets and a mode that will put you up against another team to prove which one will survive more in a zombie apocalypse.
10
Call of Duty: Black Ops II is not only one of the best games in the franchise, but one of the best first person shooters ever created, and even at full price this game manages to justify every single buck you spent on it, as it provides you with enough content and tools to make your experience fun and refreshing each time you start the game. There is a lot to do in Black Ops II and everything you will shoot, hear, see and touch is crafted with such a high standard for quality and detail that will make you love each area even if you have seen it a hundred times before.
9.4